The term 'telepathology' simply denotes practicing pathology from distance, which involves telecommunications used to send data and images for research, educational, diagnostic purposes. Telepathology facilitates quicker and easier diagnosis and treatment by sharing of medical images of samples magnified with help of microscopes such as Cilika Digital microscopes, and sent digitally during operations or from the lab. To put it simply, telepathology is the area of telemedicine involving transmission of pathological specimen images for remote study and accurate diagnosis of disease. Pathologists are entrusted with tasks of reading slides remotely in real-time, providing patients with immediate diagnosis. In future terms, telepathology is a burgeoning field of healthcare that has the potential to change the whole dynamics of diagnostics industry for the better.
There are three main categories of telepathology:
Static image-based systems: Images are captured using digital cameras connected to a microscope such as in Cilika Digital microscopes. An image area is selected and transmitted.
Virtual slide systems: Pathology specimen slides are scanned and high-resolution digital image representations of entire slides are created for transmission and shared online.
Real-time systems: The pathologist remotely guides robotically controlled motorized microscope while visualizing the sample in real time. Real-time telepathology systems allow the pathologist to control the microscope himself remotely
Significant Impact of Telepathology
Telepathology involves radical changes in workflows, clinical processes, professional duties and responsibilities, not requiring the sample and pathologist to be located in the same place. Telepathology Impacts include:
Accessibility of Care – Accessibility of care generally refers to relative ease or difficulty in obtaining health services in face of hindrance or obstacles, be it geographic, economic, or social. Access to pathology is crucial to enable diagnosis of minor illnesses as well as fatal conditions such as malaria and cancers. In the absence of accessibility provided by products such as Cilika Digital microscopes, there is a gap in the system which is palliated by slow physical tissue transfer and roaming pathologists. When immediate diagnosis is required patients are transferred to large institutions, resulting in impairment of patient health, generating delays and costs, and constraining surgery options and planning. Telepathology improves access to pathology by widening access to diagnostic services in regions underserved in pathology, preventing the need to physically transport samples, reducing turnaround times for result generation, preventing service loss when a pathologist leaves, providing substitutes in local pathologist's absence, and preventing service disruptions by sparing pathologists travel to remote locations. Moreover, telepathology facilitates quality healthcare services to developing countries with no or limited access to pathology or subspecialty pathology, having better access to consultations. In future, telepathology may render pathology services and its subspecialties available 24X7 by routing cases at night to pathologists in varied time zones.
Quality of Care – Quality of care is usually addressed in literature through angle of diagnosis accuracy with researchers investigating if telepathology diagnoses are as good as microscope-based gold standard just like Cilika Digital microscope. Telepathology adds direct and indirect clinical value of its own. First, improved access to pathology leads to better care, for example, intraoperative telepathology examinations. Second, it offers long-term potential for image analysis and providing assistance to pathologists for diagnosis. Third, telepathology facilitates quality assurance even for isolated pathologists. Finally, it aids in learning and expertise building, explaining diagnosis and providing educational benefit to referring pathologist or surgeon. Telepathology plays an instrumental role in increasing pathologist's specialization, keeping remote pathologists up-to-date with recent findings.
Improved Efficiency – Telepathology for educational objectives offers unambiguous evidence of simultaneous access to learning materials and enhances student's learning quality and satisfaction at low cost. There is increasing demand for economic evaluations of telemedicine projects. There are potential chances of telepathology generating cost savings for health care organizations, for instance, pathologist's salaries. Moreover, telepathology enables economies of scale and optimization of resources like laboratories, microscopes like Cilika Digital microscopes and equipment, automation of certain repetitive activities in slide processing, cytology screening or quality assurance. Furthermore, telepathology reduces courier and archiving expenses, renders access to patient files easier and faster, especially for quicker access to expert consultations, case slide reconsultations and for pathology students. Lastly, it minimizes travel time for pathologists.
Organization & Structure of Pathology Services – Pathology services will likely to be concentrated into centralized laboratories in long run, leading to emergence of globalized diagnostic services. To small healthcare institutions, telepathology offers the possibility of outsourcing pathology at lower cost, enabling smaller structures to employ telepathology.
How Can Developing Economies Benefit From Telepathology?
Medical professionals in different locations can view images captured through microscopes like Cilika Digital microscope, simultaneously consulting via teleconferencing.
Doctors can consult with pathologist specializing in patient's area of concern.
Healthcare providers can get second opinions more effectively and conveniently.
Enables pathologists and specialists to collaborate on complicated cases.
Patients' data can be synchronized across various health information mechanisms.
Once implemented, telepathology functionalities are less expensive to operate than conventional system, hence useful for smaller labs.
Small labs empowerment ensuring access to quality pathologists 24X7.
Provides access to telemedicine allowing patients from remote corners to get access to telemedicine, leading clinicians without need to travel.
Shorter turn-around time of patient for conducting test and seamless collection of report.
Seamless management of lab workflow culminating in better efficiency and error-free workflow.
Reduces tension of storing and acquisition of patient data since all data can be uploaded on cloud.
Challenges Acting as Hindrance to Telepathology Growth & Development in Evolving Economies:
Huge costs involved, hence medium to small labs are unable to adopt telepathology, which again doesn't serve labs situated in remote areas.
Revision of existing workflows and processes.
Technical glitches or concerns.
Individual barriers including lack of clinical value, attitude towards telemedicine being subjected to polarization.
Time-consuming.
Organizational barriers like facing financial challenges, reengineering workflow,diagnosis accountability assignment.
Raises accountability issues regarding information privacy, contractual arrangements with other organizations involved and extent of coverage provided.
Legal barriers involving medicolegal implications of duty of care, remuneration, licensing requirements, data protection, privacy laws and consent rules.
Ways of Challenges being Resolved:
Cost-effective requiring minimum upfront cost-Cilika Digital microscopes from Medprime, is an affordable, unique pathology solution that provides pathologist community much-needed flexible working model for implementing telepathology with minimum upfront investment, simultaneously increasing work flexibility, accessibility, and efficiency to provide better telepathology services and solutions bridging gap between urban & rural areas.
Telepathology solutions provided by Cilika Digital microscope can now be integrated with LIS database currently available at any establishment.
Scalable storage infrastructure on cloud.
Features of Cilika Digital Microscope Having its Fair Share of Benefits: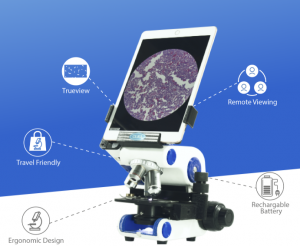 Portable Series – Medprime's Cilika Digital microscope from Portable Series has best digital setup for telepathology, allowing professionals to live stream whole slides in real-time for second opinions and diagnosis with other pathologist and doctors, capture, store in cloud, sharing high-resolution images and videos. Cilika Digital microscope with Google Drive via Cilika's one-touch cloud storage safety, accessing all data at your fingertips across all devices. Click, store and share using WhatsApp, telegram, Gmail, Google Drive. Stream live demonstration on multiple devices with Cilika's disturbance free multiple device connectivity feature.
Benchtop Series – Cilika Digital microscope from Benchtop Series is a fine fusion of traditional and digital microscopes with features such as 4X, 10X, 40X and 100X (oil immersion) infinity-corrected achromat lenses, darkfield and phase contrast microscopy, used in diagnostic labs, hospitals for testing samples like blood, semen, tissues, microbes, smears.
Transform Series – Cilika Digital microscope from Transform Series is a versatile binocular microscope upgraded to digital benchtop system instantly, appropriate for students requiring binocular microscopes for classes and examination.
Make Cilika a part of your daily routine!
Telepathology is Here to Stay in the Years Ahead!
Telepathology has already made its inroads in healthcare segment, and is being practiced to diverging degrees globally. Benefitting great deal out of digital solutions, laboratories are evolving rapidly with immense opportunity for field to expand its horizon and unravel complex medical puzzles.
As digital pathology, of which Medprime's Cilika Digital microscope is an inseparable part, entails meaningful collaboration between pathologists and cross-disciplinary teams, pathology labs will be in a position to offer expertise to regions beyond their current scope where there's a dearth of experienced or specialized pathologists.
The time has come for pathologist to embrace and take advantage of new tool offerings in adding objectivity to one's perspective or approach.