You sow seeds, water them and collect the harvest. We can only wish that farming was this straightforward. But that's not the case. Agriculture involves various complexities and conditions that demand continuous monitoring and inspection. Conditions like bacterial growth, diseases, parasites etc. require a careful study that is possible only when you have a microscopic view.
The very size and structure of traditional microscopes, along with the requirement of a power source prevent them from being used on the field for agriculture, what is needed in such cases is a portable microscope. Let's explore a few aspects and examine using portable microscopes in agriculture.
Microscopic Examination of Plant Diseases is Critical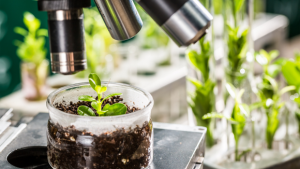 Crop plants are highly responsive to weather vagaries, environmental changes, and many internal factors. While these factors may harm plants, plants are also vulnerable to bacterial and fungal attacks and thus prone to many diseases.
Hence, crops, especially those vulnerable to diseases, demand continuous microscopic inspection to ensure a healthy and safe crop quality. Many of these diseases are contagious. Thus, delays or ignorance can destroy the entire crop or significantly affect the outcome, thus putting lives and livelihoods at risk.
An apparent or superficial examination doesn't help. Let alone instinct-based decision-making or course of treatment. Agriculturists have to conduct a microscopic examination. It enables them to thoroughly diagnose the case and provide observations that further pave the way to an effective treatment.
So yes, in a way, microscopes that help conduct a microscopic examination on site are not only essential but critical devices in agriculture.
Portable Microscopes Enable Quick Diagnosis Via On-Site Testing
Portable microscopes serve as a handy device, especially when the samples are to be studied on-site and cannot be collected and transported for study.
In dense plantations, for instance, sugarcane, coffee, etc., with inaccessible areas, agriculturists or experts cannot carry a regular microscope. A portable microscope enables quick and on-the-spot testing in such cases. While being lightweight and portable, it offers high-quality precision imaging to help experts take a microscopic look at the area under examination.
They can do so on-site, without requiring collecting the specimen and taking them to a lab thus saving time.
Cilika Portable Microscopes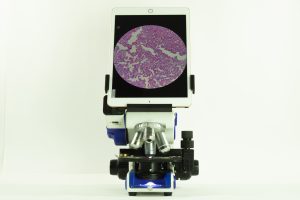 Cilika understands the critical role portable microscopes can play in agriculture. Accordingly, the company provides intelligent microscopes that enable effective microscopic viewing anywhere and anytime. Its product CILIKA™ Portable is a perfect choice for portable microscopic viewing. CILIKA™ Portable provides high-quality imaging, a lightweight body, and battery backup.
Some exceptional capabilities of CILIKA include the following.
Live streaming of slides in real-time
Capturing and cloud-based storing and sharing of images
Ergonomic designs to ensure comfort and care
Capturing 100% of the circular field precisely as the view through CILIKA's patented TrueView technology
High-power lithium-ion battery with 15-hour backup
Click here to know more about CILIKA portable microscopes.
Applications in Agricultural Research Institutes
CILIKA™ Portable enjoys widespread applications across various applications in agricultural research institutes. It includes analyzing seeds and grains, seed variety identification, germination capacity testing, purity determination, etc.
The microscope has been able to help agriculture universities, institutes, colleges, and agriculturists examine crops meticulously and foster more profound research.
Want to order CILIKA™ Portable? Click here to connect with MedPrime.