As the name implies, digital pathology refers to acquiring, managing, and interpreting pathological information in a digital environment. It represents the latest stage of evolution from its ancestors, like simple microscopes, compound microscopes, projection microscopes, and so on.
Digital pathology enables healthcare professionals to scan and store the sample slide in a digital format. This itself opens the doors to endless possibilities in the healthcare sector. While its use is now well-entrenched in developed nations, developing countries are yet in the initial stages of its acceptance and use.
Considering benefits like quick sharing of a digital image, reduced storage costs, AI/ML-based fast image processing, etc., healthcare in developing countries may soon transform. But is it that straightforward? No. The future is undoubtedly optimistic. But it is worth assessing the stony road leading to the milestone!
Digital Pathology Adoption Challenges
Digital pathology's use may be proliferating across developed and developing countries. The benefits are pretty well-known. But the digital microscope, as a technology yet faces some reluctance. The reasons aren't invalid. But they continue to impede the wholehearted adoption of digital pathology. Let's look at a few.
Pathologist to population ratio is significantly less in developed countries and even weaker in developing ones. This leads to work overload and affects the pathologist's efficiency and assessment accuracy.
In developing countries, issues like lack of digitally literate manpower, poor quality control, absence of supportive systems for efficient workflow management, and ever-increasing population also hamper digital pathology's adoption.
Developing nations are confronting many non-communicable diseases that demand accurate pathological diagnosis.
Overcoming Challenges with Digital Pathology | Hi-Tech Digital Microscopes
Physical transfer of samples from rural areas to urban centres isn't only time-consuming but a daunting task for both the rural and the urban counterparts. It requires efficient logistics arrangements, cold chain systems, as samples may degrade during transportation. But digital pathology can help overcome this challenge!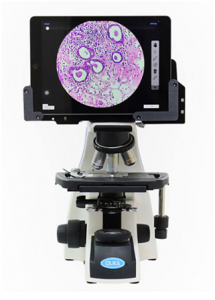 CILIKA, which is the world's first smartphone integrated digital microscopes for clinical and research applications, can help bridge gaps. It is a remarkable addition to digital pathology that can contribute positively to healthcare in developing countries.
CILIKA offers various benefits that make it a crucial pathological device. While enabling digital transfer and expediting communication, it provides several other advantages that support its need in modern healthcare setups.
Patented TrueView technology captures 100 per cent of the circular field, thus offering pathologists a clear and more enhanced view. It can, in turn, help improve diagnostic accuracy.
CILIKA allows pathologists to perform linear, circular and free-from measurements during observations. In addition, they can add notes and comments while observing.
CILIKA further enables pathologists to capture, edit and export high-resolution images as required. It offers adjustable image resolutions of up to 4128×3096 pixels, multiple colours, contrast, brightness settings, and white LED illumination for uniform lighting and perfect image.
Pathologists can digitally zoom up to 4X and get an ultra-magnified image, thus simplifying scrutiny and enhancing its accuracy.
Besides, pathologists can share images with their colleagues to seek opinions. It can help save time, preventing the need to physically transport samples in order to get a second opinion.
How Can Digital Pathology Microscope Support Education?
In many developing countries, where medical education is pretty expensive, digital pathology microscopes like CILIKA can play a significant role. They can allow pathology trainers to share slides digitally in real-time with trainees worldwide. Aspiring pathologists can attend seminars, lectures, etc., from their homes and discuss unique slides with the live streaming capabilities.
Thus, budding pathologists from developing countries wouldn't have to travel to developed nations or even to cities to study pathology. It can help them gain access to better quality, real-time education from their home.
CILIKA can genuinely catalyse better healthcare in developing nations. Visit the website to explore the CILIKA Microscopes or Call us +91 89769 24214.