Science of microscopy is hundreds of years old. The first compound microscopes were made in Europe in early 1600s and ever since, the field has evolved steadily, with cutting-edge technologies bringing in significant changes and continuous improvement in quality, accuracy, and efficiency for life science research, pathology and more recently, telepathology and telemedicine. Today digital microscopes built through scientific innovations and technological advancements, and integrated with sophisticated algorithms support scientists in interpretation of images, providing immediate insights. In the future, microscopes will be automated and fully integrated with AI based software assisting doctors and researchers in making faster, accurate and sophisticated analyses and churning out intelligent interpretations of biological and non-biological samples. Although optics will remain a key component in microscopy, the image itself is also one part of the process now. Far more important are technological advancements enabling scientists with visual information and interpretations. These inventions have positively impacted the life of researchers, students, pathologists and doctors alike.
The key to growth of modern microscopy, is our evolving ability to clearly and accurately visualize samples in three dimensions-coming mainly from advances in software and graphical processing that improve our ability to capture, store and examine complex 3D data. Novel software removes unwanted signals from out-of-\focus regions of the specimen to unearth regions of interest, automatically enhancing visibility of structures without manual real-time alterations. Such processing reduces modification of raw sensor data from region of interest, preserving image structure and other parameters while minimizing user interaction. The resulting precision and reliability result in reproducible and statistically relevant outcomes. Manufacturers are developing solutions for extracting information as much as possible from samples. Confocal laser scanning microscopy is standard for true 3D-resolved fluorescence imaging and combined with cutting-edge technologies, helps researchers, students, scientists, pathologists, to extract in-depth information from images.
Additionally, background noise in biological samples means that faint details of raw data close to noise level might be difficult to extract. This is tackled by state-of-the-art digital microscopes through increased resolution, speed and sensitivity. Increasing one of accessible areas tends to decrease other ones, so a system aiming to obtain true images must infiltrate these limits in near real time. Ideally, such a system would be automated for inexperienced users, making room for full control for those wishing to fine-tune each parameter individually.
Future of Microscope Objectives Tackling Future Challenges:
Miniaturization for added mobility
UV Microscopy-short wavelengths for increased resolution and contrast enhancement
Automated systems for more throughput
Liquid lens integration for quick focus adjustments
Cilika from the house of Medprime Technologies, a medical device company, is a major breakthrough in field of future-ready technology pertaining to pathology, telepathology, teleradiology and telemedicine arenas. The integration of tablets and smartphones with microscopy brings to the table a multitude of ways to process, share and analyse data directly from the microscope.
Cilika Portable Series
Cilika Portable, world's first smartphone integrated microscope, is the perfect choice for work-from-home and extensive travelling, capturing wide field of view with True View Technology. Its unmatched high-quality imaging, battery backup and lightweight body with travel bag makes it an undisputable choice for field visits, medical camps and seminars. Available in both standard and premium variants, it has oil immersion plan achromat lenses and other state-of-the-art features.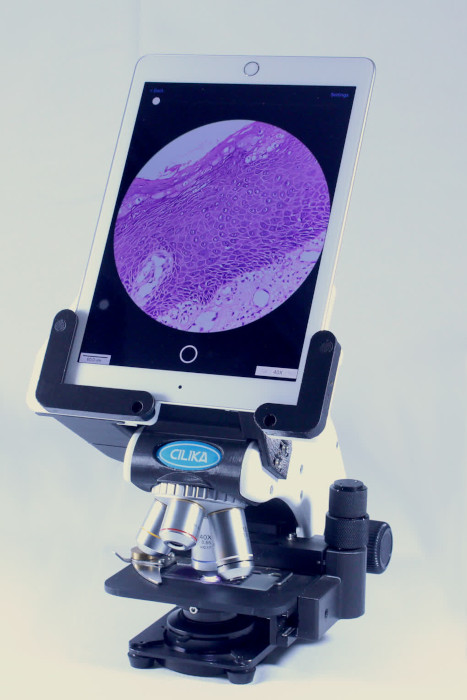 ---
---
Cilika Benchtop Series
Cilika Benchtop Series is a fine juxtaposition of traditional and digital microscope with infinity corrected achromat lenses, darkfield and phase contrast microscopy, used in diagnostic labs and hospitals for testing samples like tissue, blood, semen, microbes, smears.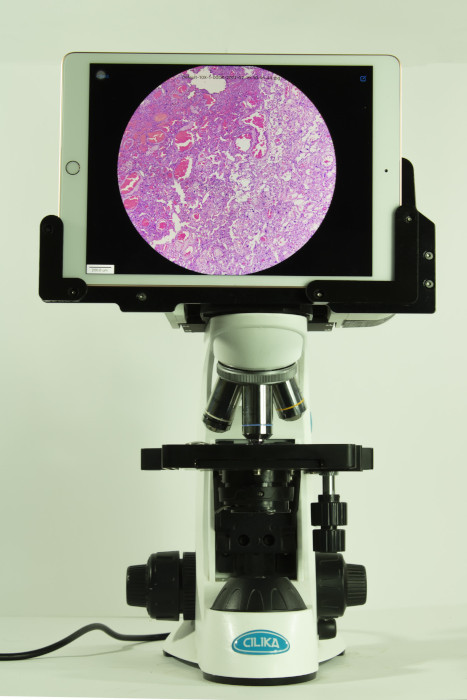 ---
---
Cilika Transform Series
Cilika Transform Series is versatile binocular microscope upgraded to digital benchtop system instantly, apt for students requiring binocular microscopes for classes and examinations.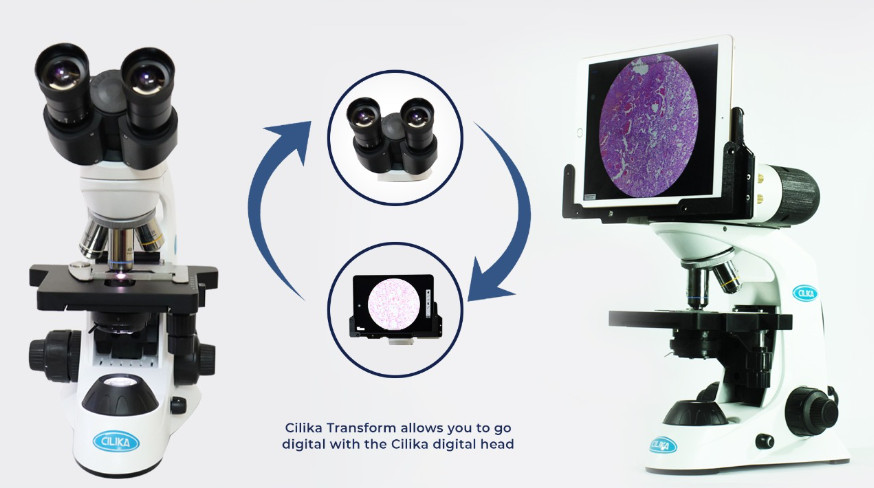 ---
---
Cilika's Recently Launched TF100 Digital
A trinocular digital microscope with a universal viewing attachment that allows viewing through both binocular eyepieces as well as your own mobile phone. Cilika is your 'go-to' device anytime, anyday!
Contact Medprime Technologies with questions regarding Cilika Digital Microscopes or capturing images and video of Cilika Microscopes.