Portable microscopes, a step up from laboratory microscopes and digital microscopes, are widely applicable tools in the field of microscopy. Found in laboratories of schools and colleges as well as for field studies, they provide simple, feasible yet elegant solutions aiding scientists to peer into the microscopic world unravelling structures invisible to naked eye irrespective of the location.
Advantages of Portable Microscopes:
Easy to operate-Portable microscopy like digital microscope in recent times, has simple, uncomplicated setup, ideal for easy operation by anyone, even a layman having minimal training and knowledge.
Point of care testing – Portable microscopes are proving highly beneficial in developing countries, particularly for deployment outside of urban centers, governmental institutions and universities-best suited for identifying disease-causing organisms like Mycobacterium tuberculosis and others, in outbreaks within a short span of time.
Space-Portable microscopes being small in size, do not take up much space in a laboratory. Where space is a prime concern, multiple microscopes can be set up for studies to be done in tandem with each other as part of an overall project.
Easily transportable-Being light and portable, these microscopes come up with minimal cost and effort making them ideal options for field studies, and are used in screening camps and mobile units such as those in vans. Moreover, digital portable microscopes are used in a wide range of industries such as education, research, medicine, forensics, telepathology and teleradiology, and industrial manufacturing owing to its lightweight body and subsequent easy transportability.
 Disadvantages:
Low resolution-Resolution of most light portable microscopes is relatively low, due to the smaller path length travelled by light within the compact structure of the microscope.
Inability to provide 3D rendering of structures-Portable microscopes are unable to provide in-depth information on three-dimensional structure. Equipment like scanning tunneling microscopes and scanning electron microscopes are better options.
Low magnification caps-Some portable microscopes belonging to lower end of cost scale, come with very low magnification caps (as low as 40x). Most commonly and widely applicable lens when operating portable microscope is 10x giving magnification of 100x when used in conjunction with 10x ocular lens. Higher magnifications require a great deal of stability in the microscope structure in order to prevent vibrations while sample viewing. Lightweight structures of portable microscopes are usually incapable of providing this stability and make for uncomfortable viewing experiences, even when they support higher magnifications.
Inability to operate in darkness-Darkness is one of the conditions where portable microscopes cannot operate. One needs artificial light sources or built-in illuminators to salvage the situation. This problem is usually overcome in battery-powered portable microscopes.
Thus, versatility, low-cost & affordability, and plethora of usage options for academia, education, research studies, telepathology are the USP of portable microscopy.
Own CILIKA to avail the latest technology on offer!
CILIKA Portable, world's first smartphone integrated digital microscope with TrueView Technology, is an apt choice for work-from-home and extensive travelling. Its unmatched high-quality imaging, battery backup and lightweight body with travel bag makes it an undisputable choice for field visits, medical camps and seminars. Cilika Portable's 5200 mAh Lithium-ion batteries provide 15-hour battery backup, enabling you to travel and work with limited or no power supply. Weighing only 3 kgs, Cilika Portable microscope easily fits inside 30cmX20cmX18cm bag for hassle-free travel along with smart business sling bag. Furthermore, its uniquely designed optical system prevents reduction in path length and ensures that resolution does not suffer due to compactness of device. Cilika Portable supports high magnification upto 100x oil immersion lens, with overall magnification of 1000x.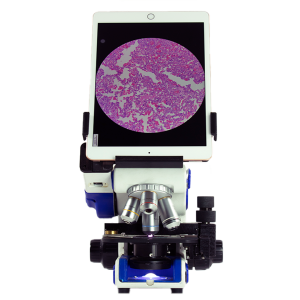 CILIKA Benchtop Series is a master blend of conventional and digital microscope with features like 4X, 10X, 100X (oil immersion) infinity-corrected achromat lenses, and the provision of upgrading with fluorescence, darkfield and phase contrast microscopy used in diagnostic labs and hospitals for testing samples like blood, semen, tissue, microbes, parasites, smears.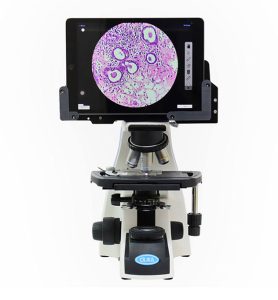 CILIKA Transform Series is a versatile binocular microscope upgradeable to digital benchtop system instantly, an ideal choice for students requiring binocular microscopes for classes and examinations.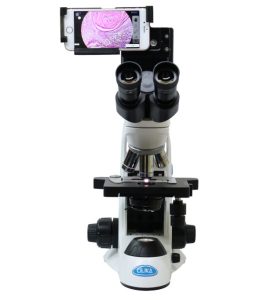 CILIKA's TF-100 Digital trinocular microscope with universal mobile viewing attachment has hi-end features like Viewing Head, Eyepiece, Nosepiece, and Four High Contrast Infinity Corrected Plan Achromat Objective Lenses with Data Management, Image Capturing, Video Recording and other specifications.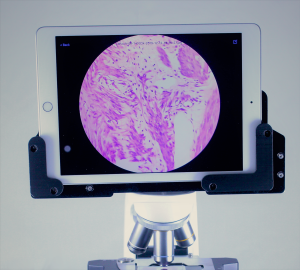 Get hold of CILIKA before it's too late!