Dermatology deals with skin and its various parts and disorders associated with it. Just like any other part of the body, the diagnosis of skin-related disorders requires close observation of the symptoms, most often invisible or undetectable by the naked eye, creating a need for microscopy. The wave of digitization has not failed to hit the dermatology segment. Like all other users, digital microscopes gives dermatologists the advantages of more accurate diagnosis, leveraging the power of AI, cloud-based data storage, etc. let's delve a bit into some aspects of digital microscopy for dermatology.
Digital Microscope Applications for Dermatologists
Dermatologists require a relatively low magnification level as compared to pathologists. They take a thin slice or outer layer of the epidermis to observe the cells at a microscopic level. The sample should be thin enough to allow light to pass through it.
In addition, dermatologists also use Reflectance Confocal Microscopy (RCM). It is high-resolution and non-invasive imaging technique that dermatologists are increasingly using to enhance the diagnostic process. RCM is used to diagnose melanoma and nonmelanoma skin tumors. But it also aids in interpreting and managing various inflammatory skin diseases.
Benefits of Digital Microscopes for Dermatologists
Let's look at some advantages of digital microscopes.
In many cases, dermatologists cannot store the sample for long. In situations like these, digital microscopes benefit as they can help dermatologists take pictures of the specimen and observe it later. Digital microscopes have an external camera mounted on the microscope allows them to click photos from multiple angles.
Digital microscopes allow users to share images with other specialists as and when required. This feature saves time and effort incurred in visiting the specialist or waiting for them. It proves to be convenient for dermatologists and patients as well.
While capturing images, digital microscopes also enable dermatologists to save pictures on the cloud. These features help them store images securely and access them instantly.
CILIKA Portable Microscopes – The World's First Smartphone Integrated Microscope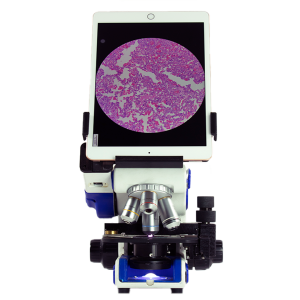 Are you a dermatologist looking to upgrade your microscopes? Choose CILIKA Portable. CILIKA is a digital LCD microscope. It is the world's first smartphone-integrated microscope for clinical and research applications.
CILIKA Portable offers various features that include an ergonomic design for better viewing and erect posture during observations, patented TruView technology that captures 100 percent of the circular field precisely as the view, digital micrometry and annotation, high-resolution imaging (up to 1500X magnification and digital zoom).
In addition, it offers multiple device connectivity, telepathology, and digital data features for more convenient sharing and managing of images.
Want to know more? Visit https://www.medprimetech.com/cilika-digital-microscopes/ or contact us at contact@medprimetech.com to let us know your requirements.