Cilika®, from the house of MedPrime, is the world's first smartphone integrated Digital microscope for clinical and research application with TrueView Technology, having enticing features like Smart Ergonomic design and Digital Data management. Cilika Digital microscope is a fine juxtaposition of Comfort and Performance, giving both pathologists and medical students, the benefits of studying samples for hours, even carrying it around seminars and medical colleges. Its Magnification and Zoom techniquesare suitable for pathology and microbiology, withHigh-Resolution Imaging for perfect image in publications and posters. Furthermore, with Cilika Digital microscope, one can capture an image or record view of live samples and the smart microscope can be connected to larger screen or projector for collaborative research via photo sharing and video streaming apps. Its Digital Micrometry enables students and pathologists to get accurate measurements and give a detailed information about samples for further investigative study and research. Be it cell staining technique which involves better visualization of cell components under Digital microscope done by medical students and pathologists alike or identifying microorganisms like bacteria, fungi and protozoa for medical and research study and examinations, Cilika Digital microscope is your 'go-to' options any day, anytime.
Cilika's Latest Breakthrough Product: The Recent Launch Of TF-100 Digital
Cilika® TF-100 Digital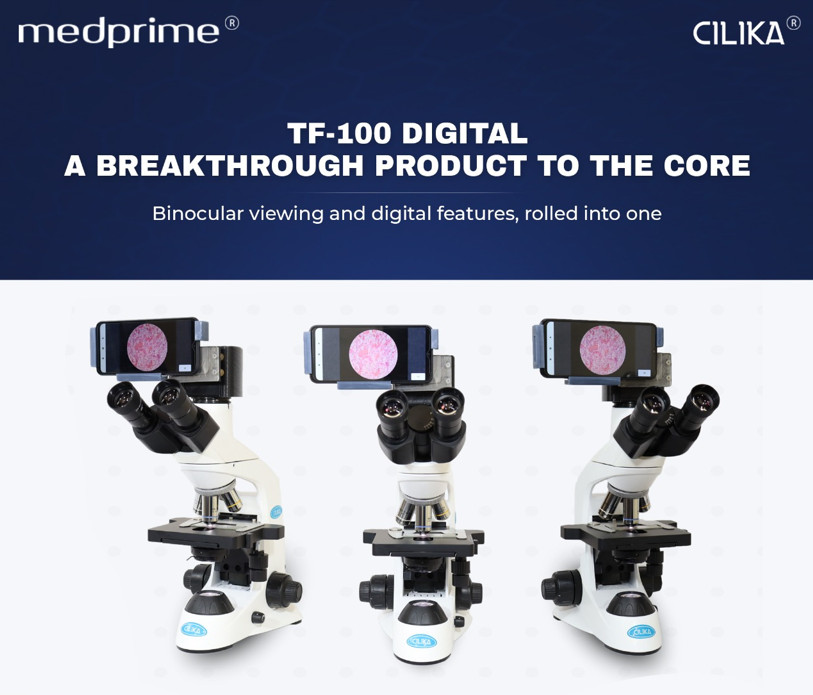 Unleashing Cilika'sTrinocular Digital microscope from the house of Digital Pioneer MedPrime! The engaging hi-end features of TF-100 smart microscope comprise of upright bright field benchtop Digital microscope with smartphone attachment at trinocular port, simultaneous viewing through Binocular Eyepiece and smartphone display, TrueView technology for capturing 100% circular field of view via smartphone camera.
Other general features of microscope includes a Siedentoptrinocular head with Diopteradjustment, Quadruple Nosepiece With High Precision Inner Position Stop Click, Four High Contrast Infinity Corrected Plan Achromat Objective Lenses (4X, 10X, 40X and 100X), Low Position Coaxial Coarse and Fine Focusing System, Safety Rackless Mechanical Stage, Condenser with Iris Diaphragm, Helicoid mechanism, 3W LED Light with Aspheric Collector. Furthermore, TF-100 Trinocular Digital microscope is equipped with user-friendly applications for your smartphone to perform tasks like Data management, Image capturing, Video capturing & recording with exposure, brightness, saturation, temperature & contrast control. This has Micrometry-linear and circular measurements in micron, Free hand marking and pointer for demonstration, some optional features like Wireless HDMI Dongle allow user to perform a lagfree wireless projection of the sample on HDMI enable screen or projector , an option to choose a battery backup provides multiple hours of uninterrupted workflow without any search of power point. Main device is backed up with 1 year warranty by the company . All these technicalities in Digital microscope are extremely beneficial for pathologists and medical students for their convenience and also to carry out accurate clinical findings necessary for patients' treatment and path breaking medical researches via collecting and studying samples under Digital microscope.
Cilika® Portable Series
Cilika Portable Digital Microscope, available in both standard and premium variants, is a compact and easy-to-use device for travel anywhere. Its hi-tech features include plainachromat lenses, lightweight design weighing 3 kgs and a carry bag, rechargeable batteries providing upto 15 hours battery backup. This portable, ergonomic Digital microscope is easy to set up and use in the lab, classrooms, seminars, halls and homes. Moreover, it can be used in areas with limited power supply Ideal for studentsand pathologistto carry out their activities and coming up with breakthrough results in medical fields and accurate clinical findings!
Cilika® Benchtop Series
Cilika Benchtop Series Digital microscope comes in three models, and is available in standard and premium variants-fine blend of conventional and Digital microscopes. The top 3 features are infinity-corrected high achromat lenses with internal 10Xmagnification, interchangeable with binocular head, and upgradation of premium variants for incorporating fluorescence, dark field, and phase contrast microscope. The Benchtop series are apt for routine use in diagnostic labs and hospitals, allowing testing of all kinds of samples like blood, urine, semen, tissues, microbes, smears, etc. A smart choice for pathologist indeed!
Why Upgrade To A Digital Microscope?
Expert Consultation for second opinions.
Evidence-based Reporting with sample images & patients' reports.
Online Discussions & Classes with colleagues/students.
Virtual Library for capturing images for creating libraries.
Health Benefits preventing cervical spondylitis& stress on eyes, back, neck.
Guide To Purchase Right Digital Microscope:
Camera Resolution with minimum 8MP with extremely good image sensor
Frames Per Second with more than 30
Field of View
Screen Resolution
Software providing picture correction, micrometry & annotations
Cost
Needless to say, Cilika Digital microscope fits the bill perfectly!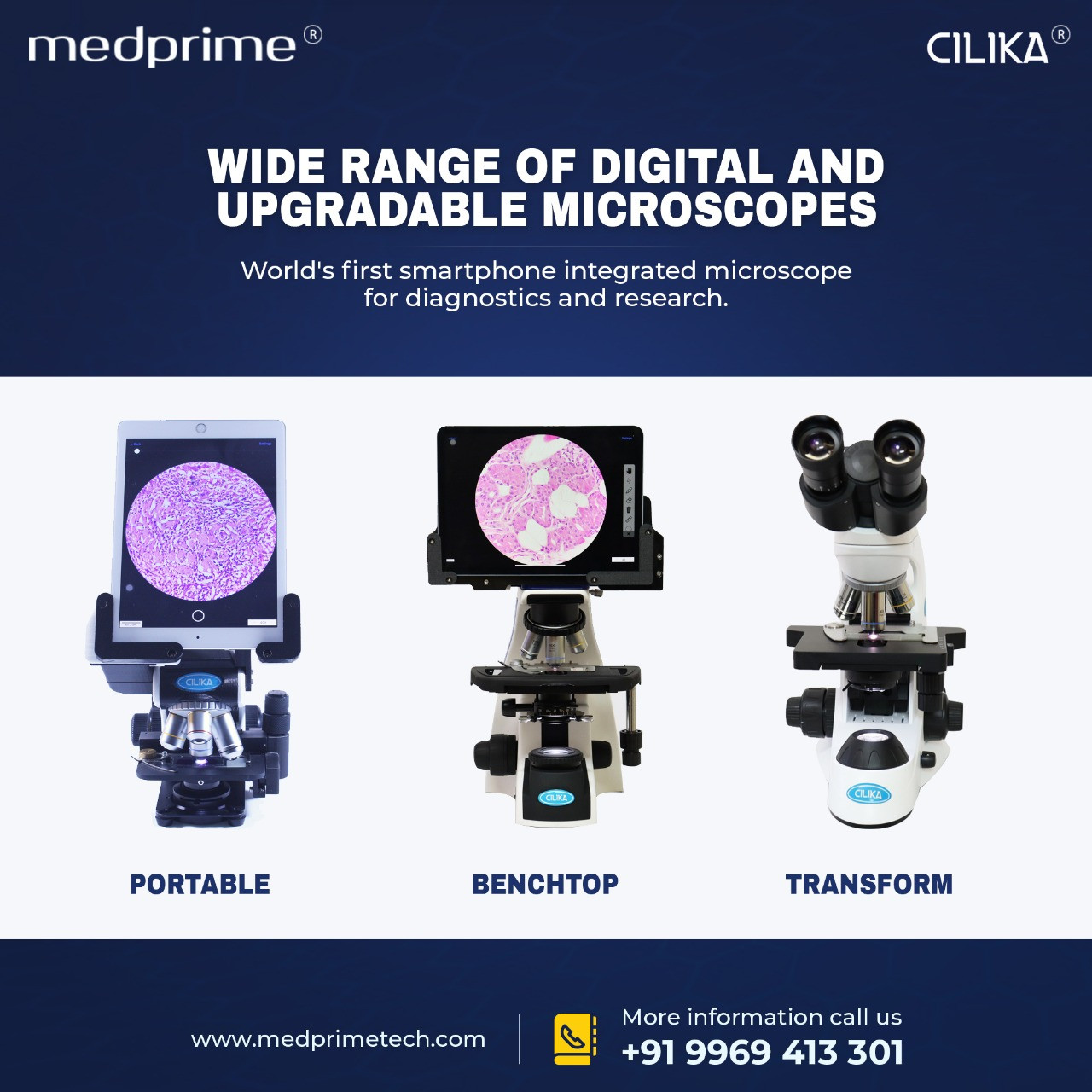 Medprime Technologies, a medical device company started way back in 2014, the brainchild behind India's state-of-the-art Digital microscope Cilika has revolutionized the way pathologists think, feel and deal about accurate clinical findings based on conclusive evidence. Having pathbreaking products like Cilika Transform, Cilika Portable, Cilika Benchtop Series, and recently launched Cilika TF-100 Digital, Trinocular Digital microscope, the highly-acclaimed Medprime,attaining both national and global exposure, is the quintessential 'shining star in the horizon' !
Contact Medprime Technologies to know more in detail.